Industrial Equipment Repair
Electronix Services is a global independent electronic repair company providing fast, safe and cost effective industrial control equipment repairs. We have been repairing electronic and electro mechanical equipment for over 25 years. We perform extensive component level repairs to all types of electronic devices and control systems.
Variable Speed Drive Repair and motion Control Systems
We have applied our Electronic Engineering know how to addressing electronic equipment repair issues in the fields of motion control and positioning systems equipment. This area of business has rapidly evolved over the last few years, as the world becomes more dependant on Electric Digital Control rather than Mechanical Control of motors. Electronix Services offer specialist, custom repair and refurbishment/upgrade solutions for all components found within Digital Controlled Motor Drives and Motion Control Systems. If you need Variable Speed Drive Repair (VSD), Electronix services is your go to partner for dependable service.

Electronix services performs extensive component level repairs, , replacing bad components, as well as full testing of ICs, PALs, EPROMs, GALs, surface mounted components, trace repairs and much more. Every Variable Speed Drive Repair (VSD) is subjected to dynamic function tests to verify successful repair and then backed by a rock solid repair guarantee. Sealers and conformal coatings are re-applied as needed.
With over 25 years of experience in the electronic repair industry we are applying our expertise to the renewable energy sector. We are capable of carrying out full component level repair work on a wide range of drives used with rotating equipment from hydro power generation, Food and Pharma Processing lines to Building Lifts and Equipment Hoists, Industrial Laundry equipment right down to exercise machines.
Electronix Services takes pride in providing the highest quality workmanship. We not only carry out a thorough electronic repair we ensure that any other weakened or stressed components are completely replaced offering the customer peace of mind and extended warranties. After the initial repair and replacement of defective components, where possible we fully test the unit to ensure it is functioning to specification.
We stand by our service and offer our customers a full comprehensive warranty on all work we perform. We have been in business for 25 years and our unbridled customer satisfaction ensures that we are consistently the number 1 choice of engineering managers charged with maintaining high value production assets.
High Wattage Power Supplies Repair
Electronix Services provides fast, safe and cost effective High Wattage Power Supply Repair Services to the most stringent standards of safety and quality. We repair Power Supply Units ranging from Computer Equipment to Medical Devices, Industrial equipment and Process Control Equipment.

We build specific interfaces for PSU's so that we can test them properly using high end test equipment similar to that used by the manufacturers.
We replace components with the exact same specification so that the machines properties are identical to what they were before the unit went faulty and therefore remain compliant.
When we repair any PSU, its full range of parameters are fully tested in our process and the units are all stress tested with full loads as well as burned in. Before the units ship we carry out a Hi-Pot safety test on each unit.
HMI & SCADA Repair
We are a global electronic repair services company providing bench repair for SCADA (Supervisory Control and Data Acquisition Equipment) and HMI equipment for a broad range of customers.

Data acquisition is the collection of data in real time from either analog or digital sensors so that it can be processed or stored by a computer. Data Acquisition Systems normally comprise an input scanner or switch, an Analog to Digital converter and signal conditioning, to either energise controls such as motors or using a computer process information so that it can be measured, logged and displayed.
Data Acquisition systems can also form part of a process control system which through the use of appropriate software provides direct digital control of various industrial processes. Similarly they can be used for data logging and process or alarm monitoring.
Data Acquisition Systems are used extensively in a wide range of industries including electricity generation and transmission, Chemical and Petrochemical, Highways, Tunnels e.g. The Port Tunnel SCADA System and Transport, Oil and Gas and Steel production, as well as research and development.
Our company has been in the electronic equipment services industry for many years and have vast experience repairing and upgrading the broad range of equipment that is behind these data acquisition systems. This includes the display panels, PC and embedded controllers, logic controllers, backbone systems, network switches as well as power supplies, printers and data loggers/plotters.
LCD & Touch Panels Repair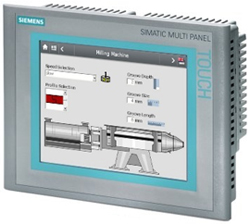 Equipment Repair – Flat Panel & LCD Panel / Monitor Repair
We understand that downtime is not on option for you and we pride ourselves with our ability to provide fast, safe and cost effective Flat Panel & LCD Panel repair that will get you back up and running in no time. We can repair virtually all models of Liquid Crystal Displays and we have full capability to repair a very broad variety of Touch Screens. We can service all of the displays found in Manufacturing facilities and Control Systems as well as Kiosks, Tablet PC's, POS systems, Handheld Computers and other specialised devices with LCD Displays.
Backlight Replacements
In LCDs, backlights are integrated into the edges of the display. An array of bumps in a diffuser placed behind the display evenly channels illumination across the panel. Dimming or insufficient illumination is usually indicative of defective backlights in the panel. By replacing the backlight, we are able to refurbish the panel to its original lighting level.
Driver (TAB) Repairs and Replacements
When lines appear across a display panel, this usually means that there is a fault with one or more drivers in the unit. At Electronix Services, our facilities allow us to isolate the faulty tabs and repair or replace them accordingly.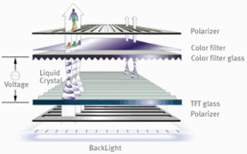 Electronic Repairs
Where faults are ascertained to be with the electronic components on the display panels, we are able to repair or replace the faulty electronics, thereby refurbishing the panel back to working condition. Polarisers Removal and Replacements Polarisers are thin film layered onto both sides of the LCD panels. Scratches appearing on LCD panels are usually scratches etched onto the polarisers. By replacing the polariser films with our state-of-the-art equipment, we are able to remove the scratches.
A Commitment to Technology and Quality
To consistently maintain and upgrade the world class level of technical support and services that our clients have come to expect from us, we are constantly looking to invest in newer and better technologies and equipment. Our state-of-the-art infrastructure includes polariser replacement machines, as well as tab bonding equipment that supports both chip-on-film and chip-on-glass technologies.